The Best Carpet Cleaning Melbourne Has to Offer
Removes spots and stains promptly
Prolongs the life of your carpeting
Makes future maintenance easier
Protects carpeting from future damage
Maintains the carpet's warranty
Clean and allergen-free home environment
Your carpets and rugs are covered in stubborn stains and ingrained blemishes? You've tried everything with little or no success? It's time to get professional help. We're the company that's been returning the colour and soft feeling to carpets in private properties across Melbourne. Our team of qualified Melbourne carpet cleaners will come to your home fully equipped with top-of-the-range cleaning and stain removal tools and products, prepared to attack and remove stains of many different natures.
Choosing from a range of effective carpet cleaning methods ensures that your carpets will receive a service designed to meet their needs, and be left looking amazing. As well as that, we also specialise in rug cleaning and restoration. This service is provided by employing to the fabric only gentle cleaning detergents. You can order carpet or rug cleaning in Melbourne with us at a day and time of your convenience without paying extra for weekend and evening appointments. We're always open and ready to help you find the right service for your carpet at any time.
More information about the Carpet Cleaning:
Dry cleaning
Our technician will hoover your carpets and special dry powder will be spread. A spinning rotary bonnet machine with lots of tiny brushes will be used to rub the powder into the carpet.
The grime, dust and dirt will be attached to it and then vacuumed off. Keep in mind that if there are any stains they will not come out completely, as the dry cleaning service is, above all, refreshing.
Scotchgard (Fabric protector)
This is a special spray, which our professional cleaners will put on top of the clean carpets in order to preserve them from any future stains or spills. If you spill something the protector will keep it from getting inside the fibres of the material. That will save you money from future cleans.
Rug cleaning
Our professional cleaners will first patch-test to determine the most suitable cleaning solution for your rug. Safe shampoos and detergents will be used. They are not harsh on the fabric. The results are freshened up mats and rugs. And their colours will be restored.
More Reasons to Choose Us
Every carpet cleaning service we have put on the Melbourne market is performed with the use of top-of-the-range cleaning tools.
Make sure to ask about the special deals we offer on combined bookings. To take advantage of our discounted offers, order carpet cleaning along any other service we deliver, like kitchen cleaning or deep bond cleaning.
We offer a wide selection of booking opportunities - weekdays, weekends and evenings, at the same price.
Our team will bring along powerful stain removal products for cleaning coffee, red wine, food, ink, makeup and other stains.
You can take advantage of our preferential prices by combining our excellent Carpet Cleaning with another service of ours: End of Lease Cleaning, Duct cleaning, Kitchen Cleaning, Moving in Cleaning;
Order in which the different parts of the Carpet cleaning are done: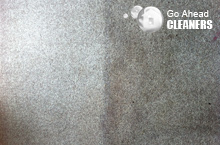 First, the carpets will be thoroughly vacuumed with an industrial vacuum cleaner. Then the cleaners will pre-spray the carpet and pre-treat the stains and high traffic areas with a special soliton. This will increase the chances of removing the stains. Afterwards, our professional cleaners will "steam clean" your carpet, using hot water and high pressure. This will loosen up the dirt, soil and grime.
About 95% of the moisture is extracted, so the carpet will be left almost dry and approximately 3-4 hours will be needed to dry off completely.

Get the carpets & rugs in your home deep cleaned by the most qualified rug cleaners in the area. Order carpet cleaning in Melbourne on 03 8566 7540.

For excellent Carpet cleaning our professional cleaners need only:
Access to the property.
The property must have running water and electricity
Free parking space close to the property (especially when steam cleaning the carpets is included - the equipment is quite heavy)
Here are the most common questions about Carpet cleaning:

Q: How long will it take for a carpet to get completely dry?
A: It depends on the weather, the thickness of the carpets, ventilation and temperature in the room. You can speed up the process by leaving your window (s) open or put on the AC, so that the airflow could circulate.
Q: When can I walk on the carpets?
A: Straight after the service, you can walk barefoot or wear overshoes (protective shoes)
Q: Will the stains be gone completely?
A: It really depends on the origin of the stain, how long it has been there and if you have treated it with other solutions.
Q: What kind of detergents do you use?
A: We resort to safe, eco-friendly cleaning solutions with a proven effect that are completely harmless to both humans and pet animals.
You can check more of these on our FAQ page.